Train Horns??
Traditional instruments can't produce enough sound to be heard across the distances required to clearly hear delays. We don't begin to hear any two separate sound sources until they are separated by about 50 milliseconds of time, which requires about 50 ft. of distance. To hear rhythmically significant differences, hundreds of feet between sources would be necessary. But, the sound of traditional instruments can't carry for hundreds of feet. Louder sound through electronic amplification could also make longer distances possible. But three serious drawbacks make it impractical: 1. The electrical power of the magnitude necessary would impractical if stored in batteries or the sent through power lines across many acres; 2. Electricity is dangerous, especially in the out of doors where it can rain – or be around water; and 3. It might require a microphone – which, in the case of this kind of high amplification, risks feedback.
Train horns are the best acoustic instrument available that is designed to be heard over large distances (3 miles). They have the advantage of being extremely rugged and dependable outdoor, all-weather devices. Their most important benefit is that they are not powered by electricity, yet can provide nearly 140dB of sound at 1 meter. They are powered by gas, usually compressed air. I chose to power them with one of the most powerful potential-energy storage devices available – steel cylinders filled with 304 cubic feet of high-pressure Nitrogen, N2, gas.
Nathan Airchime Air Horns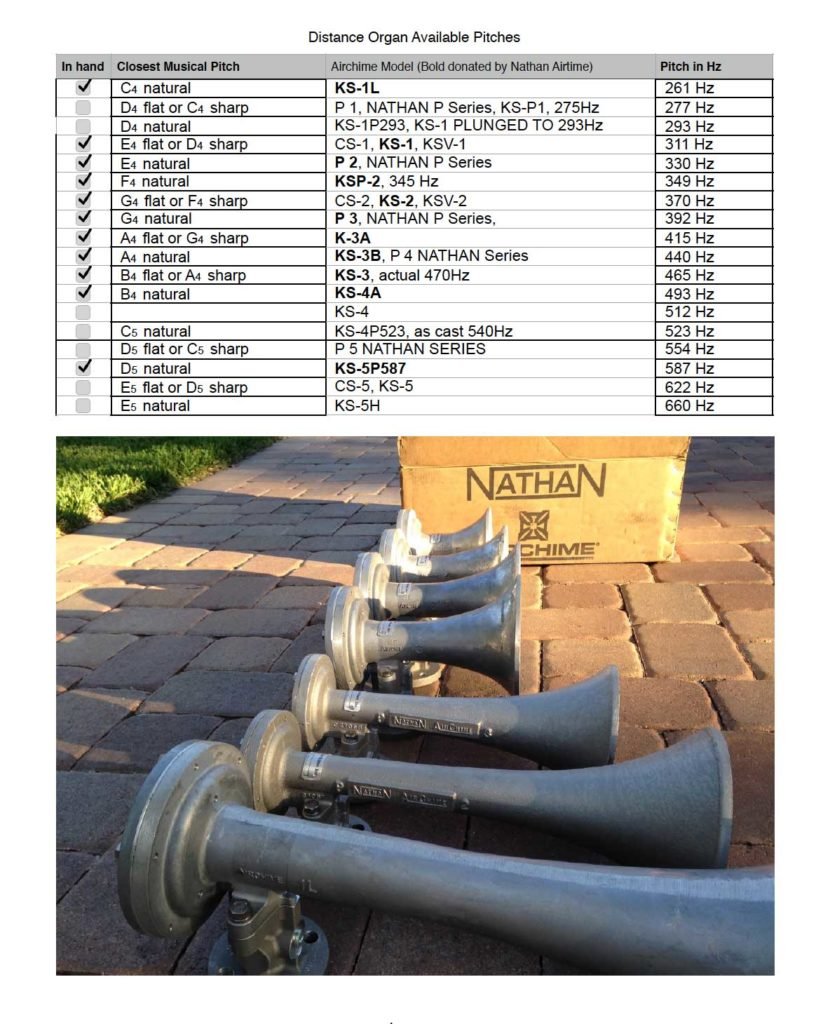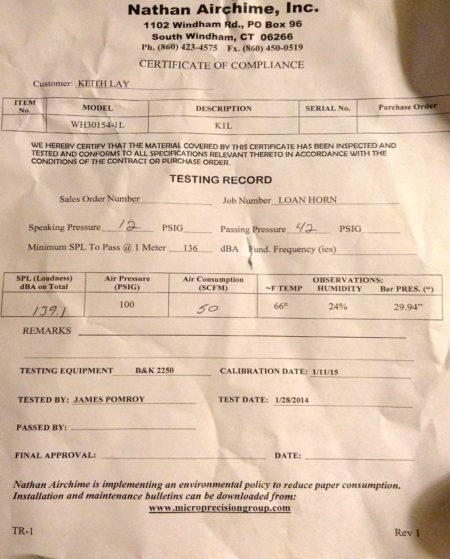 Eleven different pitches have been made available to the Distance Music project, thanks to the generosity of Nathan Airchime. Each horn is capable of producing a clear, balanced tone from C4 to D5. All but two horns are the "K" series design with a 6-inch diameter air chamber and a 1/2″ NPT gas inlet. The "P" series horns,  the 2nd and 3rd horns from the front, as seen in the photograph, have a smaller chamber and 3/8″ inlet. The "P" horns take about 10ms longer to respond and often start their note with an upper harmonic whistle. This can be corrected by starting each pitch sent to them 10ms ahead of the other horns.
Each horn is designed to be heard for 3 km in still air, and can produce circa 140dB sound pressure levels. For the purposes of Distance Music, those levels may not be reached because the duration of each horn note will be a short, staccato 50-100ms in duration. The dispersion of sound is quite even, losing 7.1db from behind, and about 10dB from the rear quarters on each side.