The story behind "Vision of the Earth"
Just moved to Florida in 1990, my first exploration of Winter Park, Florida took me to a dark corner of used bookstore near the corner of Park and Fairbanks. In the poetry section, I ran across a curious old book titled Earth by Frank Townshend. My first inkling was randomly picking a page in the middle and reading.
"Vision of the Earth," the 2nd chapter of a multi chapter, long-form poem, and I never quite forgot the feeling it gave me.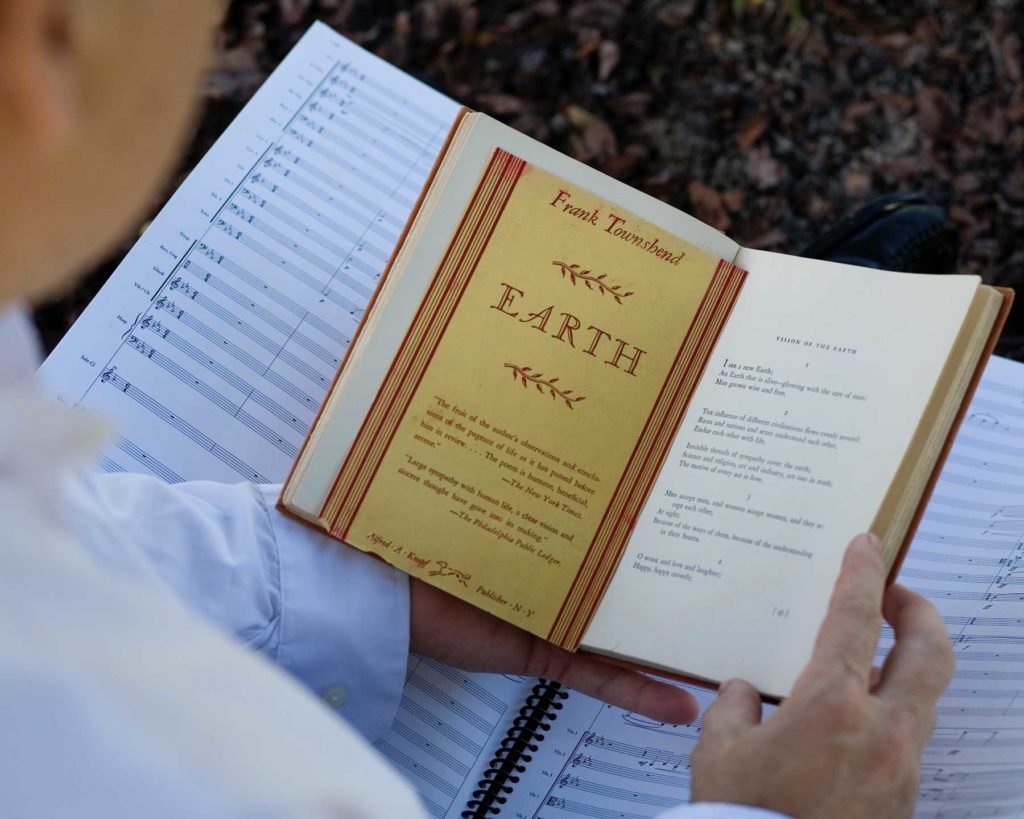 16 years later, I shared my violin concerto "On the Playground" with John Sinclair – the director and conductor of the Bach Festival Society of Winter Park and Orchestra. He liked it and surprised me right then and there with a commission for a work for chorus and orchestra. He said he'd prefer a work between 10 and 15 minutes. At first, I thought of a chamber orchestra size, say that of Stravinsky's "Mass" – a double wind octet; but, John insisted that I use a full orchestra because the choir's sound is so huge and offered me comp tickets to their next concert to audition them at the Knowles Chapel. I had heard the Bach Festival and was thrilled by the sound – but now I was listening for balances.
The sound of 170 or so voices easily overpowered the fortissimo orchestra. The beautiful acoustic space gave about a second reverb time. Details were lost, but high frequencies were not. The best part of the room was that longer durations were given a beautiful midrange bloom of harmony. Dr. Sinclair furthermore was open to adding forces to the orchestra, like the mighty pipe organ and extra percussion.
I asked about the Bach Festival's musicianship regarding contemporary music, to which Dr. Sinclair responded, "they can handle anything you can throw at them." The part-time orchestra consisted of the area's best classical musicians, the Orlando Philharmonic, Brevard Symphony, and active music professors from Stetson University and the University of Central Florida. Such orchestras are difficult to judge because their membership is dependent on musicians' previous bookings and obligations.

My first thoughts regarding choral difficulty led me along the lines of John Rutter because of its simplicity. But, when I mentioned this approach to John, he immediately responded he found that style a bit too boring.
Wow, what a perfect commission. 
Now in search of lyrics. I asked my friends for text ideas and favorite poems. Florida suffered from an ugly political polarizing between Democrats and Republicans at both the 2000 Al Gore v. George Bush 'hanging chads' ordeal and the GW Bush's 2004 re-election during the Iraq War. Perhaps I could use music to bring Democrats and Republicans together? I initially thought that something Americana would be healing, like setting Presidential speeches or something. Nell Thompson, always an earnest supporter of the arts and my efforts, lavished me with a stack of beautiful texts. But, try as I might, I could not find a speech that lent itself to singing.
Frank Townshend's optimistic work is part of a popular literary trend in spiritualism that began in the late 1800s and lasted through the 1930s. Promulgated through books and magazines, these religious concepts broke from the common conservative dogmatism and politics of the mid 19th Century. Truth Seeking, New Thought, Transcendentalism, Universalism, Theosophism, and Religious Science are examples of late 19th Century spiritual ideologies that all embraced science and answered to no organized spiritual authority. These movements shared a belief that all religions contained truth, and the spiritual path to higher consciousness was available to everyone. More enduring examples of authors from this era include Krishnamurti, Ralph Waldo Emerson, Edgar Cayce, Khalil Gibran, and Mahatma Gandhi. Spiritual women leaders also became prominent like Emma Curtis Hopkins, Myrtle Fillmore, and Madam Blavatsky. The insanity and horror of the 20th Century did not smother these ideas, and they continue in the work of many spiritual teachers today.
The Original 2006 "Vision of the Earth"
I wanted to deliver Townshend's message with music that was strong enough to open the most hardened of hearts. Such is the power of song. But, could I present 15 minutes of glowing optimism without becoming boring or relying on 'easy listening' pastiche? I carefully paced my progress for a Spring 2007 premiere since I only had time to compose a few hours before work every day. But, when the premiere date was moved 6 months ahead of schedule to October 2006, I needed to focus on composition without diversions. Vacation time and my twin brother, Kevin's, generosity provided the space: several days in a row that I could entirely devote to composing! I finished the work in 11 days, completing bars 261 through 383 (the end). 
I returned home and met the September 1st deadlines. But, "Vision of the Earth" was being met with resistance to leading women in the choir. After pushing through rehearsals, John relayed that it was proving just too difficult: too many meter changes and weird time signatures (an instance of 15/8 in a 12/8 passage). Some members had difficulty singing the lyrics about naked bodies. Even a Florida State Fellowship Grant judge (a frenemy composer who's boss was Dr. Sinclair, teaching composition at the college), SCL, stated that "The Choir Hates It!" on my 'official' comment form when I decided to include an early version to the granting committee as evidence that my work was also heard in Florida. Hardly the warm feelings of optimism that I thought Townshend's words and my music would inspire.
Simplification required
John gave me a choice of revising or not, and I took the path of least resistance. I understood why the 2006 version of "Vision of the Earth" was pulled. It was too tricky for the WP Bach Festival to prepare without the other works on the program suffering. As a lifelong musician, choir director for 8 years, and a singer in symphonic choirs in Akron years ago – I understood the concept of 'failsafe' when it came to concert programming. I was encouraged to simplify Vision of the Earth to receive a solid premiere with the Bach Festival: specifically, I needed to remove the meter changes and simplify as much rhythmic complexity as possible. Doing so might make the work accessible to more choirs. On the other hand, these rhythms flowed with vitality and were not difficult, just unfamiliar with poor readers. Could I find the balance between making them obvious and on the beats without allowing the music to be less than it could be? The premiere was rescheduled for the original Spring 2007 Concert date.
The search for frank Townshend
Finding biographical information on Mr. Townshend was not easy, and I needed to do so to get permission to use the text (if the copyright was renewed). Though popular in the 1930s, scant information existed about his life or death. In 2005, there was not one Google hit searching for his name. Even the Alfred K Knopf Collection at The University of Texas at Austin's Harry Ransom Center was thin on information except for his birthdate and the fact that he was, at one time, a part of the Corps of Royal Engineers in India. I had the (wrong) assumption that there would be no problem getting such permission since the book was out of print for 50+ years, and, if nothing more, the renewed interest could only be profitable for a publisher. I asked for permission to use the text from Random House (who owned Alfred K Knopf), but they had lost any record of Townshend, suggesting that it probably fell into the public domain.
I called Al Schlesinger, the famous music attorney in LA for advice. He suggested I hire a copyright search from Thomsen Compumark in Washington, DC, who, for $100 would physically search the Copyright Office for claims to ownership to the book Earth. I received the answer on December 27th: Earth was re-copyrighted in 1957 by Frank Townshend himself. This meant I had to find his heirs and began the journey of finding Frank Townshend, the man. I could find no new information outside his birthdate and other book titles. I certainly needed to get permission from them before the premiere.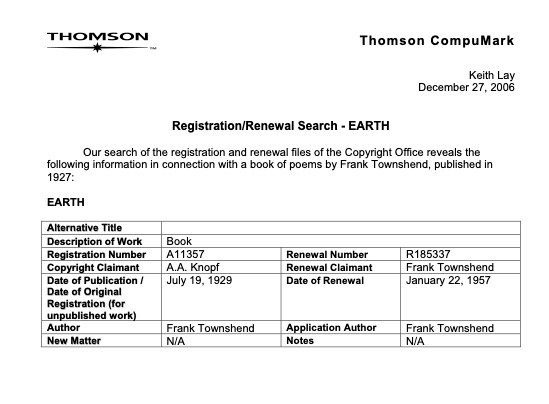 I found a copy of Earth being sold on amazon by John Jeter, accompanied by a review stating that these books were profound and should be read. John, it turned out, is the Music Director and Conductor of the Fort Smith Symphony in Arkansas! In our conversation, John described his interest in finding more about Frank Townshend. He heard an account of the poet from a couple who had met him on a cruise who related that Frank was very private and reticent to speak of his work. It was my first clue into the man's personal life.
Then, in April 2007, a significant breakthrough occurred. A ranch manager in California, Al Sheeter collected information about Frank Townshend for years. After learning that I had little to go on, he sent me scans of the cover-sleeve, a personal letter found in one of the copies, an image of Frank Townshend wearing seven medals.
Thanks to Mr. Sheeter, I learned the following about Frank Townshend:
b. May 10th, 1887 Birchill, County Cork, Ireland
Education: Bedford School in England
Royal Military Academy in Woolwich
Received commission 1905 Corps of Royal Engineers
Chatham 2yrs
3.5 years Public Works Dept., India
WWI – Army
Decorated with the Military Cross
Chavalier of the Legion d'Honneur
Officer of the Order of the British Empire
later:
became the Under Secretary to the Government of Bombay
He opened a shop in London, probably in the late teens or early 20s
He built two studios in Paris
He started a company for hand printing on silk
He directed the Institute of Higher Chinese Studies on the Riviera
He wrote Earth in Nice, France, beginning in November 1927 til Jan 1929
He was in Paris on Aug 25 1930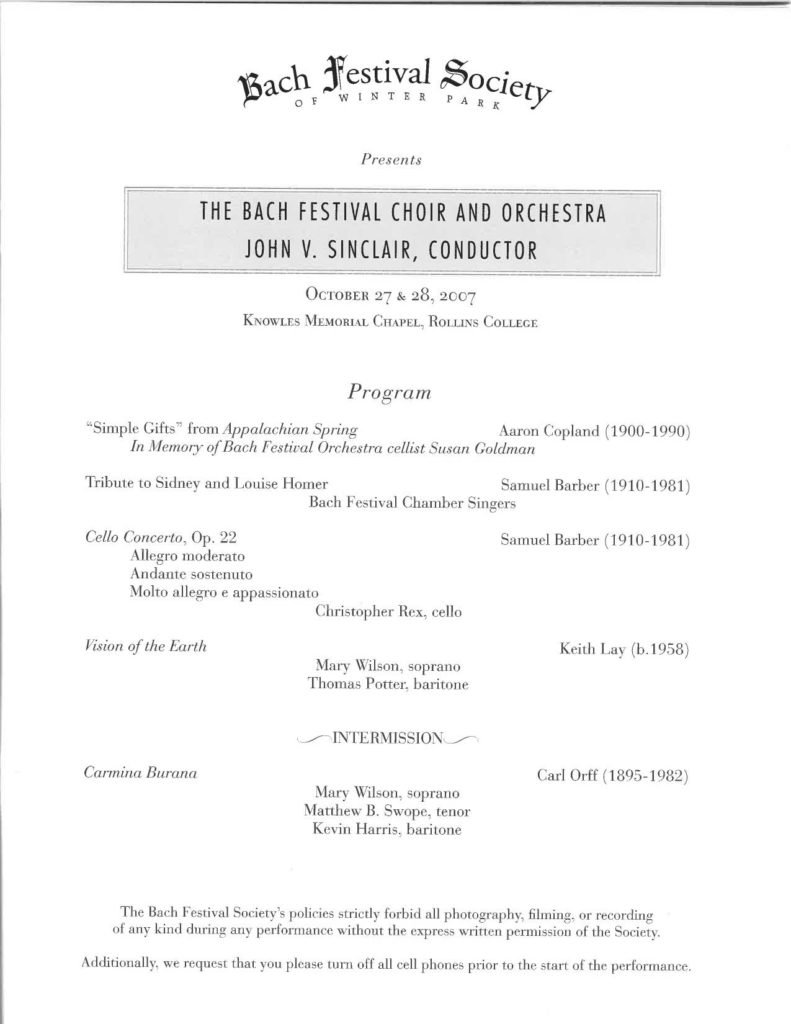 GoogleBooks beta began to appear at about the same time, turning up interviews with Mr. Townshend in Theosophist Magazine in September 1930. This interview describes Mr. Townshend's motives for writing Earth:
"I have no message that can convince: no one to convert. Only, I have understood something concerning which I write. Further, I know that my understanding will soon be given to many: in the same way that the first men knew that their self-consciousness was not an illusion of their brains: but the heritage of their race.
This happened to me suddenly: One day as I walked in an eastern city, my surroundings were lit as by an inward light. And in that instant I knew in my mind, the workings of the universe: knew my place in it: that I was immortal: without sin or fear of death. I understood the meaning of life, and my relationship to the Earth. I saw the heritage of man.
It is out of that experience that I have written this book. I draw my understanding from the same source as that from which Lao-Tse and Buddha and Christ and Mohammed drew theirs: and I know it. Nothing can dislodge that knowledge: nor can the death of my body destroy it. For I know that in that understanding I am immortal: I know that it resides in you, as it resides in me; awaiting its unfolding. And I know that that inspiration cannot be communicated to you by any man, nor religion, nor philosophy. It lies within you: and the hour of its awakening is not of your choosing.
I am God. Within me burns a spark of life, putting forth energy for ever and for ever.
The consciousness which I have here described is even now awakening in the minds of men. It cannot be held back or suppressed: no laws, no systems of government, no censor, nor the burning of books, can hold it in check."
Next, Dr. Sinclair gave me a new and better option to move the concert to the opening concert of their 2007-8 season. This concert included "Carmina Burana" and Samuel Barber's challenging Cello Concerto featuring Christopher Rex, a native Winter Park man who is now the principal cellist of the Atlanta Symphony. Premiering "Vision" to this audience who expected contemporary music seemed worth the wait.
I shortened many sections, re-metered many bars, and simplified rhythms by removing syncopations. The opening sound, the word "I" was now scored for the two soloists, who are quietly answered by the choir "I": a metaphorical device by comparing the direct sound of 2 soloists in unison (the listener's "I") to the voice of a community singing "I." The offending 'naked bodies' text was removed and voiced for tutti horns. I shortened the recapitulation and changed the coda to shorten the work to last less than 15 minutes. In hindsight, the piece became weakened through this over-pruning: too many themes were presented in too short of time.
But, the most pressing problem was my score, which was too hard to read! John pointed this out – even asking his coordinator, Sherry Orr, to create a double size. I misread the statement, thinking that a double-sized score would be produced. But that would have been a 34×22 size! John had to resort to using the condensed score that the choir had. Looking back on it, I realize I was quite the fool, believing that my work was done. A hard lesson to learn.
In hindsight, the audience probably did not have enough time to absorb the music in this new version. The original version, though longer, did a better job of this. Also, my zeal to simplify the orchestration weakened essential passages. Sometimes, it is better to not tamper with a piece you like which feels complete after a lot of effort. 
Time was running out !
The summer was on, and the concert was only a few months away, and, I still had not yet secured permission to use the text. Dr. Sinclair generously offered to have a search done while in the Royal Library in London doing other research – but did not have time to do so. I needed to act and felt that I had no choice but to hire a Private Investigator to find the author's heirs. Mr. Townshend was born in Cork County, Ireland, but was raised in England and served in the English military. The fact that he spent much of his time in India and France meant he could have heirs everywhere – so I'd need a PI who had connections across the entire Commonwealth. I shopped around warily. My friend Keith Andrews, who grew up and worked in Liverpool, gave good advice on recommending John Talbot in London. John loved the idea of finding this lost author and set right to work on the case. Several weeks later, I received results: A family tree of the Townshend family! I was fortunate to have found the pleasant Mr. Talbot, and I am forever grateful for his expertise.
Our elusive author, Captain Frances Horatio Townshend, had no children and died in 1974. His oldest brother, Major Philip Townshend, did have children, and his oldest surviving son, Robert, had three children who were likely still alive: Julian (b. 1945), Athelny (b. 1949), and Richard (b. 1956). I found Julian "Jules" Townshend, fittingly a Professor of Sociology in Manchester, online. I emailed him, telling him my intentions and "Vision" story. He was amazed and pleased! Jules let me know that his father, now 90, still lived in the country in relative seclusion – and that their whole family was very close to their beloved 'Uncle Frank.' Thankfully, he was glad to take the responsibility to grant me permission to perform the work. Just weeks after these revelations, Richard Townshend, the younger brother, emailed me through this site, unaware of my conversation with Jules! Richard was living in Colorado and was as kind and cordial as anyone could be. He also was pleased that I was setting his great uncle's work. When Frank died, Richard was still in his teens and told of a tall, kind, and intelligent favorite uncle whom he and his brothers dearly loved. Richard relayed to me that great uncle Frank also played an essential part in his father's life – by encouraging him in his formative years and supporting his education. Richard also shared photographs of him and Uncle Frank in the yard, taken when he was a boy. How many lives did Frank Townshend touch and inspire? Thank you, Townshend family, for your friendliness and support – I am in debt to your kindness and generosity.
In October, John invited me into rehearsal. I was warmly received and was thrilled to finally hear "Vision of the Earth"! The choir's sound was incredible – and John's leadership was inspiring. Harriet Hope, the large choir's accompanist managed the difficult rehearsal piano part perfectly. I was overjoyed that the concert seemed to be heading towards a grand premiere.
As we neared the end of October, many promotion initiatives began to appear. The Bach Festival press release was covered by City of Winter Park's webzine and the Bach Festival podcast. The Weekly, our region's alternative newspaper, and Propeller, Full Sail's campus webzine printed interviews. The best interviews came from Becky Morgan, which were aired on her "Arts Connection program on our  region's NPR affiliate for many years. With Becky, I discussed Townshend and his message and my musical approach.
Ten days before the concert, I was told that I could not record either performance, and no recording would be made due to strained relations between the musicians and management. Thankfully, they yielded to my request for some kind of archive and furnished a simple stereo recording, but, sadly, I was not allowed to have a copy.
Family friends from all over the country came to one of the two premieres, and that was wonderful! The chapel was beautiful and sold-out for both performances, and the printed programs were excellent. The concert's program was dense with challenging work – beginning with a short story about Samuel Barber's relationship with Rollins College. One of the choir's founding members, close friends with Mr. Barber, had written her a little song performed for the first time since those many years. That was followed by Barber's Cello Concerto – a knotty work – performed by the principal cellist of the Atlanta Symphony Christopher Rex, who was raised in Winter Park. The hopeful message of "Vision of the Earth" provided a contrast to the strangely erotic verses of "Carmina Burana," which sounded fantastic – huge – complete with the offstage children's choir seated above us. Unfortunately, the orchestra did not perform my work well because of being underrehearsed, and the impossible-to-read score: the difficult Barber and the sheer length of Carmina swallowed up so much time. Adding to the difficulty of the many key changes and lack of direction that musicians need for any premiere.  I learned a great deal during the process! As elated I was, I was also sad. Both performances were followed by a long pregnant pause before lukewarm applause. It was apparent that Frank Townshend's beautiful message was not delivered in music powerful and beautiful enough to open the door to possibility. "Vision of the Earth" was not yet done. 
I look forward to revising the work a little bit more and getting a great performance and recording. Frank Townshend's poem me feel good. I would like others around the world to feel it, too, set to music that is respectful and as beautiful and uplifting as I can compose.