Ariel Francisco is the author of A Sinking Ship is Still a Ship (Burrow Press, 2020) and All My Heroes Are Broke (C&R Press, 2017). A poet and translator born in the Bronx to Dominican and Guatemalan parents and raised in Miami, his work has appeared or is forthcoming in The Academy of American Poets, The American Poetry Review, The Florida Review, The New Yorker and elsewhere. The Miami New Times named him one of the Five Florida Writers to Watch in 2019.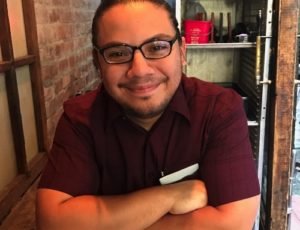 In his essay about translating his father's poetry called "On Francisco Henriquez Rosa," Ariel makes a statement about his own style: "his, more surreal and metaphorical, making huge leaps to reflect the displacement and disorientation they often address, very much rooted in Latinx poetic traditions; mine, much more literal and grounded, focusing on an "I" traversing the real world and relying most heavily on imagery."
Ariel's literal approach seems similar to Anna Akhmatova and Nichita Stanescu's, though from widely different cultures. Their work invites us into a shared world through the poets' observations of specifics. These poets do not pretend to magically inspire poetic spirit on the reader through osmosis. Rather, they guide us through specifics of the mundane, inviting us to travel with their "I", taking full responsibility to find our own spiritual connection to the poem's real world. 
DRIVING TO WORK, I STOP SUDDENLY TO LET AN ALLIGATOR CROSS THE ROAD
As if it needed anyone's permission
to clog up traffic with his presence—
laws don't apply to something so
ancient, jaywalking with the slow
grace of changeless millenniums,
his heavy body dense with survival,
scales the color of concrete after rain.
No one honks, no one dares disturb
his silent commute. A crossing guard
uses her giant stop sign to corral
the school children on the corner
but even they are shocked into quiet
curiosity until the gator enters
the underbrush, leaving our world
as it came, mystified into that green.
From A Sinking Ship is Still a Ship (Burrow Press, 2020)

An alligator crossing the road interrupts our busy lives, bringing us into the present moment. I portray the poem for Soprano and Piano with two distinct musics: fast and slow.
The fast music portrays 'normal', busy life; driving, thinking, engaging with society. These sections include scat-like ba-ba-be-dum nonsense syllables and a jaunty three-against-two piano theme—the slow music presenting a timeless presence that is receptive to observation and feeling.
Tying the entire work together is the alligator music: an upward scale slowly rising through the lowest notes of the piano.