Runaway Hearts is a film about two kids on the run from a very scary present who come across two adults who can't quite escape their past. They're four people in need of a miracle, and sometimes the miracles in life are the very people whose paths you cross.
Directed by Keith Alan Morris and starring John Schnieder, Wendell Pierce, and Ali Landry.
This is the production trailer, composed in December 2014. It is comprised of the video with rough dialogue and a music score built from themes presented in the film. As of this posting, the film is doing well in Pacific Northeast theaters.
Runaway kids Angel (Carsen twins) and Tevin (Jace Delafosse) are children of different fathers, raised by their addicted mother who dies of an OD in the early scenes. To protects her little sister at any cost, Tevin steals money from Dill to survive. Tevin learns to trust (Gabe) through being trusted, and later, Gabe's risking his life for them.
Runaway kids Angel (Carsen twins) and Tevin (Jace Delafosse) are children of different fathers, raised by their addicted mother who dies of an OD in the early scenes. To protects her little sister at any cost, Tevin steals money from Dill to survive. Tevin learns to trust (Gabe) through being trusted, and later, Gabe's risking his life for them.
 The kids' theme is a lyrically sweeping major key melody in 6/8 that begins high and falls to a cadence. Here, the "Angel and Tevin's Theme" opens with  "Morning" music, which begins each of the days the story unfolds. Symbolizing newness, it is represented with a solitary and hopeful line in the solo clarinet; an instrument that often represents the kids.

Here is the same theme, but presented as a solo acoustic guitar in a melancholy setting, as we see Angel, 5, uncared for and looking for food in her dilapidated trailer home.
Again, this same theme but with trilling strings and an orchestral descrescendo for a happy scene – the first time we see our characters laughing together as a family.
Gabe (Jay Kenneth Johnson) is a recovering alcoholic who has lost about everything. Forced to reside in his deceased parents' home, he faces his failures, depressed. Gabe finds purpose and redemption in defending Angel and Tevin from Dill. With no driver's license, Gabe is a central motivator of change and is required to get around on a bike, so his musical material is full of motion and energy, and his voice is the English Horn.
The English horn is resonant and warm, qualities we see develop in Gabe's character. Here is a scene where he is wrestling over what to do about the young runaways. The tempo is slow and the articulated passage now slurred.
Here, with the Kids as piano and clarinet, with Gabe as bassoons + cello.
Gabe is a primary motivator of the action and change within the story, so his theme needed to be able to be heard with the other themes. Here's an example of the Gabe's Theme and the main theme at the same time, in this case, the guitar flows with Gabe's Theme, while the oboe and clarinet, instruments associated with the Kids, imitate it, and morph melodic variations from their own thematic material.
Emma is Gabe's long lost high school sweetheart. She has not found a solid relationship since Gabe's disappearance, years ago. She finds a special affinity with Angel – who represents a child she could never have. Along with Gabe, she fights for the orphaned runaways, risking her life for their well being. Emma's theme is a melody heard in a solo flute, oboe, clarinet or piano that outlines a major triad. She owns the town diner, from where she first sees her old sweetheart after years of mysterious absence. Emma's theme is bright and pure – here heard in the clarinet and flute. In this excerpt, her theme is joined with Gabe's Theme in the english horn.
As Gabe slowly allows himself to be vulnerable, Emma's love rekindles. 
In this later scene, Emma's heart is warming to the possibility of marrying Gabe and adopting the children, thus satisfying her desire to love and be loved by Gabe and a family she had always wanted: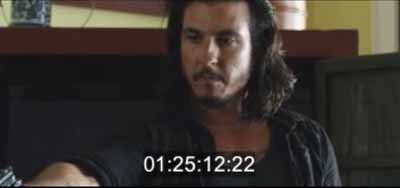 Dill (Nick Gomez) is a small-time drug dealer and boyfriend of the runaways' mother, who lets him live with them and do business from their home. The kids are only a headache to this man after their mother dies. His goal in the story is retrieving the money that Tevin stole from him. He is willing to bully and threaten the children, Gabe and Emma with death in order to accomplish it. 
Dill's music is more about sound than a theme: that of the distorted electric or steel guitar. In this scene, Dill has beat up Gabe who has tried to intervene and is moving back on Tevin. The sound of the clean fuzz distortion works well in tension string-pads like this one. The reverb helped provide an aura of anger that pervaded the character in the story:
In this first of two fight sequences between Dill and Gabe at the climax of the story, Gabe's theme drives the middle and bottom instruments of the orchestra while the Kid's theme is heard in the top instruments. Dill's 'sound' is heard as a simple rising minor scale in the electric guitar amidst it all:
 I left the best out of these examples and hope you'll watch the movie, "Runaway Hearts"!
My approach to the score: Being a story about kids and family, Keith Alan Morris and I agreed that an orchestral sound was best suited for the wide range of emotions I needed to convey. I decided to use the leitmotiv approach of assigning melodies and instruments to each important character because each underwent a personal transformation during the course of the story. They were created to be strong melodies and yet be able to serve as counterpoint to the other themes.
The film needed a light approach to orchestration because the characters'  emotions were often solitary and intimate, rather than sweeping epic-sized ones. I used the Vienna Symphonic Standard Edition Plus and Dimension Brass libraries, along with the Steinway piano and harp from the Native Instruments Kontakt 5 library.  Solo instruments rendered the solitary quality I needed.
 The music was not needed through every moment of the picture. Instead, many scenes required silence to promote a feeling of poverty and colorlessness, especially in the first half of the film. After a first draft through the movie with orchestra, I decided to add live steel guitar, electric guitar, and alto saxophone to the sampled orchestra. The steel and electric guitars used typical distortion pedals to create a more edgy and bluesy sound representing southern outlaws, as the film was set in the bayous of Louisiana. The saxophone was recorded into Logic with an M-Audio Sputnik through the Apogee Ensemble preamp. The electric guitar and steel were recorded directly into the Apogee into Logic, using stock guitar pedalboard plug-ins.
I also brought in acoustic guitar, performed by my brother, Kevin Lay. His guitar brought a comfortable familiarity to the score that could speak to audiences in a way that I could not achieve with a pure orchestra. The acoustic guitar tracks were recorded in a noisy New Mexico hotel with a pair of AKG 451B microphones by my twin brother Kevin. That noise was largely removed with Isotope RX in my studio.
I created both stereo and 5.1 surround mixes of the music using Logic X for MIDI through Vienna Instrument Pro for playback realism and Vienna Ensemble Pro5 mixer. Since the job did not have the budget to include real orchestral instruments, I did not concern myself with notation and focused on rendering a realistic sound in the sequencer. All of the tracks, both virtual and live, were precisely placed on the soundstage with Vienna's MIRPro. This brilliant reverb software from Vienna Symphonic, which uses virtual ambisonics in their multi-input/impulse reverb, made mixing easy. No level automation, EQ, compression, or extra reverb was needed for any virtual instruments.   I pulled 6dB out of the center channel to carve out room for the dialogue. This, I hoped, would give the music more room to be up in the mix without interfering.  I used Logic X's 5.1 compressor for the final and Waves to provide a Stereo Downmix of the 5.1 final to create a Stereo version. The downmixing approach should supply surround decoders with enough information for them to imitate discrete surround with just two channels of information. The actual 5.1 music tracks at this juncture are not being used for the initial release.