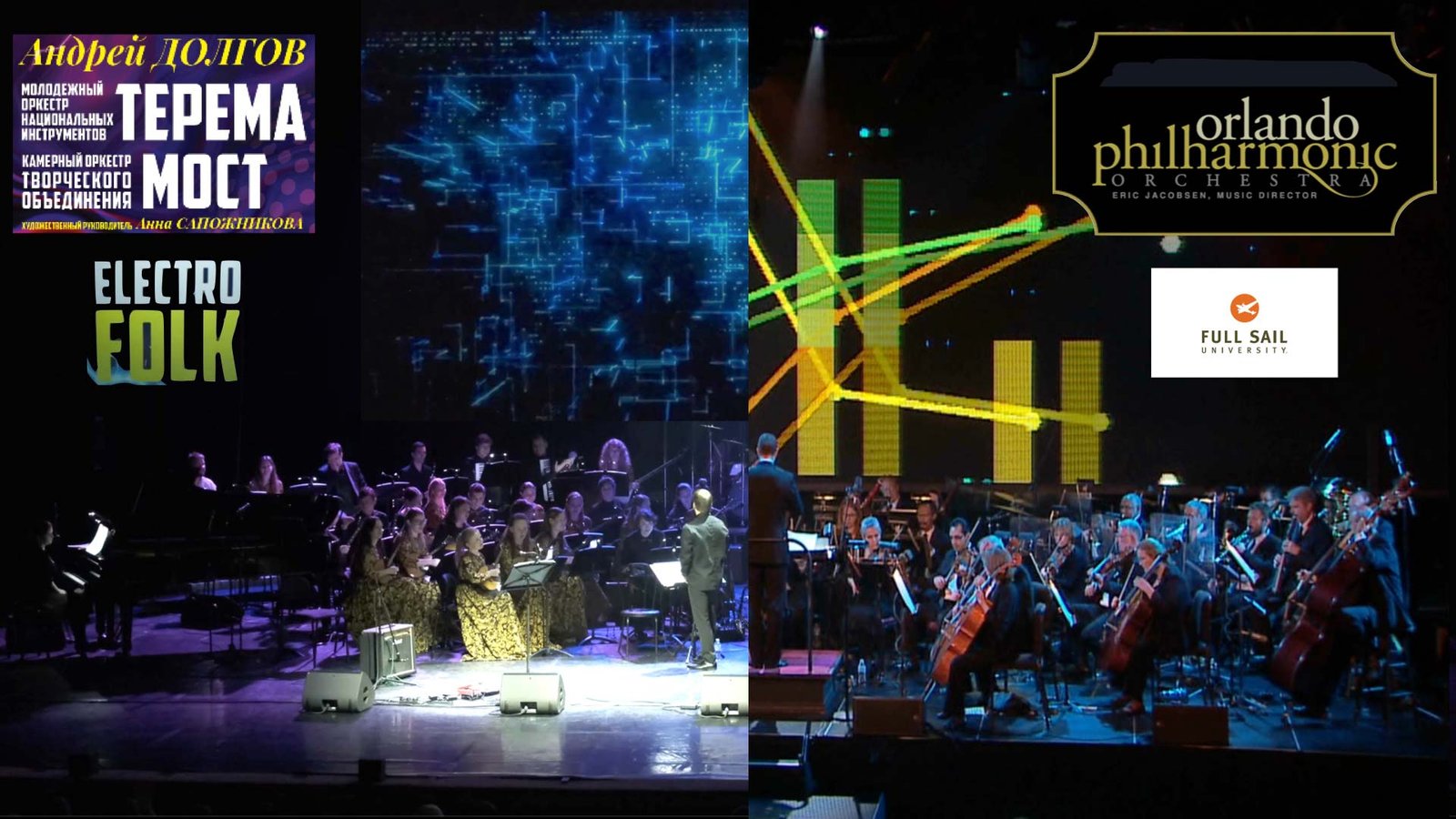 "Four Dimensions" a success in Russia!
Commissioned by the Orlando Philharmonic Orchestra, premiered at Full Sail University April 2012 conducted by Maestro Dirk Meyer
Four Dimensions is a seven-minute "concert of the future" merging orchestra with music synthesis. An EWI (electronic wind instrument) and a laptop musician perform as members of the orchestra. Game sound expert Marc Pinsky organized my 72 pre-rendered, synthesized composed as a section of the orchestra (available in stereo and 5.1 surround) using Max8 software.  Divided into Dimensions Zero through Four, the music is meant to inspire insights into what dimensional space is. Like the 2012 premiere, a visual element also helps to incite connection. Similar to the brilliant real-time computer art by Nathan Selikoff, Russia's TEMERA also presented synchronized video.
Interested in learning more about the music and seeing the scores? CLICK HERE
The TEREMA Russian folk orchestra Version!R
A surprise greeted me in the email when I was contacted by the Russian conductor of the controversial folk orchestra TEREMA ("folk-lore), Долгов Андрей (Andrey Dolgov): 
"November 24 in St. Petersburg, in the concert hall "Music-Hall" will be a big concert, the concept of which is a combination of acoustic and electronic sound. The concert will feature two orchestras. One is the orchestra of Russian folk instruments "Terema". The second is a string orchestra. This large combined orchestra is the base group for the concert. In addition, many soloists will take part in this performance."
"While preparing for the concert, I found on YouTube a recording of your composition "Four Dimensions for Orchestra, EWI and Laptop". This music fits perfectly with our concept. We also found a musician playing EWI."
This wasn't the first time Maestro Dolgev combined such forces. Here is their 2021 concert of Russian composer Sofia Gubaidulina's "Concerto for Two Orchestras  TEREMA, known for pushing genre boundaries into classical and jazz performed Four Dimensions in St. Petersburg, Russia on November 24th. I recently received their video.  
The results are fascinating.:
Orchestra composition:
Small domras 3 Alto domras 3 Bass domras 3 
Flute (piccolo flute), Oboe, Clarinet Bb
Electronic wind instrument (EWI), 2 Bayana
Timpani
Percussion 1: Crash Cymbals, Suspended Cymbal, Triangle, Crotales, Bongos (shared), Handclaps
Percussion 2: Snare Drum, Large Gong, Handclaps
Percussion 3: Bass Drum, Tambourine, Bongos (shared ), Glockenspiel, Xylophone, Handclaps
Electronics triggers
Gusli keyboards
Balalaika prima Balalaika second Balalaika viola Balalaika Double bass
piano
Violins 1 Violins 2 Violas Cellos Double basses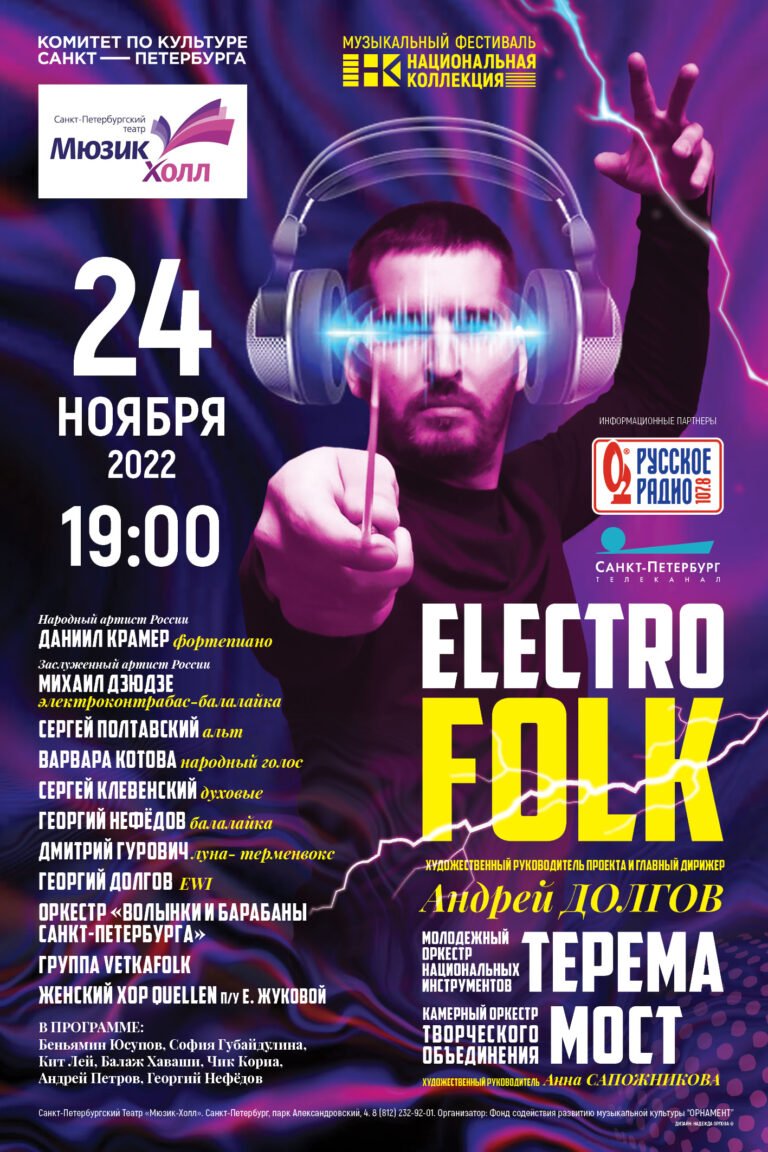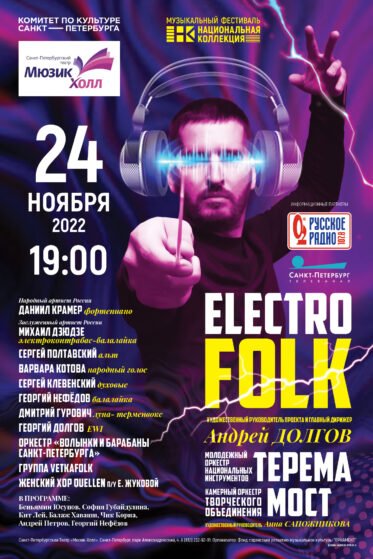 What a thrill it is for any composer to hear their work, but doubly so if it is a sizable one, triply so if the performance is a surprise from another country – and quintuply so if it is played on a new world of instruments!
I hope you enjoy comparing these orchestras as much as I have! Be sure to check out more of TEREMA's videos.