TUNE-UP (Listening out loud)
Inhale Deeply
Exhale singing a note of your choice.
Listen to the sounds around you and match your next note to one of them.
On your next breath, make a note no-one else is making.
Repeat.
SCANNING – HEARING
'The group begins to scan the soundscape. When someone feels the impulse to know what others are hearing, a signal (such as standing up or raising a hand) is made. The group members share what they are hearing at that moment.
5/10/1995
Oliveros, Pauline, (2013). p.203. Anthology of Text Scores. Kingston, NY: Deep Listening Publications
ANGELS AND DEMONS
Angels represent the collective guardian spirits of this meditation.
Demons represent the individual spirits of creative genius.
Angels make steady, even, breath-long tones which blend as perfectly as possible with the steady, even, breath-long tones made by other Angels.
Demons listen inwardly until sounds are heard from they own inner spirits.
Any sound that has been heard inwardly first may be made.
During the course of this meditation, Angels may become Demons and Demons may become Angels.
Begin by just listening for a few minutes until the spirits move.
1980
Oliveros, Pauline, (2013). p. 179. Anthology of Text Scores. Kingston, NY: Deep Listening Publications
TWO CUPS FOR ALVIN
Locate two coffee mugs, ideally ceramic or porcelain.
Turn on a white noise generator and set it to a relatively loud level, but not so loud that it hurts your ears. If you do not have a physical one, there are many on the internet, for example: https://onlinetonegencrator.com/noise.html
Take the two coffec mugs and place them over your ears, so that the white noise is very muted.
Gradually create an opening between one of the cups against your head. You will start to perceive a tone.
Now try the same thing with the other cup.
You will notice that you can now perceive two tones depending how wide the opening is. A small opening will produce low tones, a wider opening will produce higher tones.
Too open, and you only hear white noise.
Now play a short duet for two cups that only you can hear.Spencer Topel, from "A Year of Deep Listening" Day 7 of 365. The Center for Deep Listening, June 18, 2022
SOUNDFIELD MEMORY RESTORATION ARCHIVE #3
WALKING LAND ACKNOWLEDGEMENT

CAN YOU IMAGINE THE SOUND OF ALL THE HUMAN FOOTSTEPS THAT HAVE SOFTLY PRESSED THIS LAND FOR 15,000 YEARS BEFORE US; THE ROCK SURFACES, THE SOIL, THE TREE ROOTS, THE MYCELIUM FILAMENTS, THE MICROORGANISMS, THE UNDERGROUND RIVERS, THE MOLTEN STREAMS, THE FIRE? CAN YOU IMAGINE THE RESONANT FREQUENCY OF THE EARTH IN RESPONSE, THE MICROTONAL ARRAY ABOVE?
– ANNE BOURNE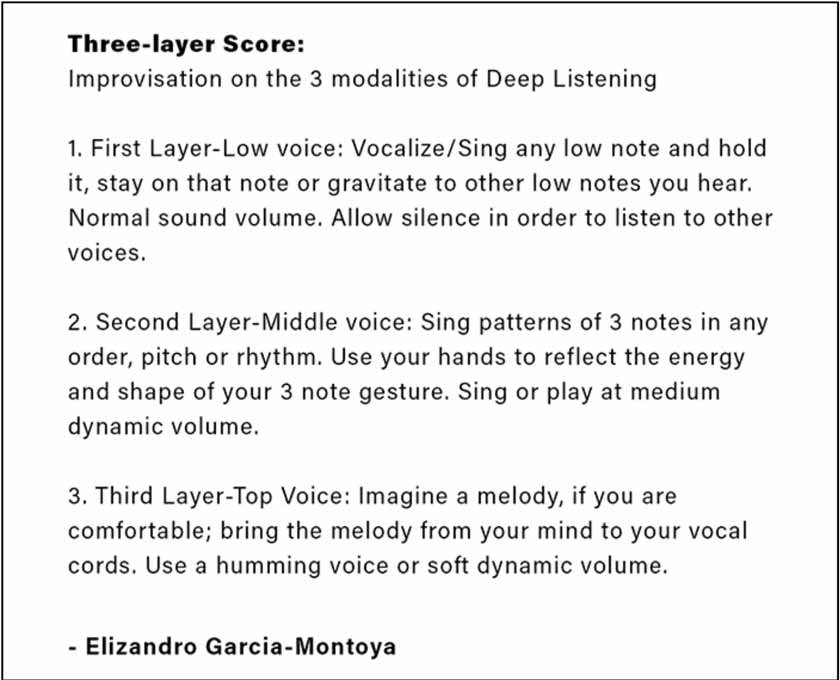 The Inner/Outer Sound Matrix
For any ensemble and/or a reader.
Listen inwardly for your own sound.
Choose when and how to play the sound – or not.
Listen outwardly for a sound from the ensemble.
Choose when and how to play that sound – or not. (How to play means choice of attack, sustain and release dynamic levels and feeling.)
For a reader:
Choose a text of current political, scientific or artistic interest.
Listen inwardly for a word to express.
Choose when and how to say this word – or not.
Listen outwardly and choose a word or phrase from the selected text.
Choose when and how to express that phrase – or not.  (how to express means what spoken style: whisper, rhetorical, natural, declamatory, theatrical shouted etc., choice of duration, dynamic levels and feeling.)
Make a twelve-minute trajectory by either adding more and more silence between your performed sounds and./or words or less and less silence. Stop when your twelve minute trajectory is completed.