A documentary on this important premiere to be released soon!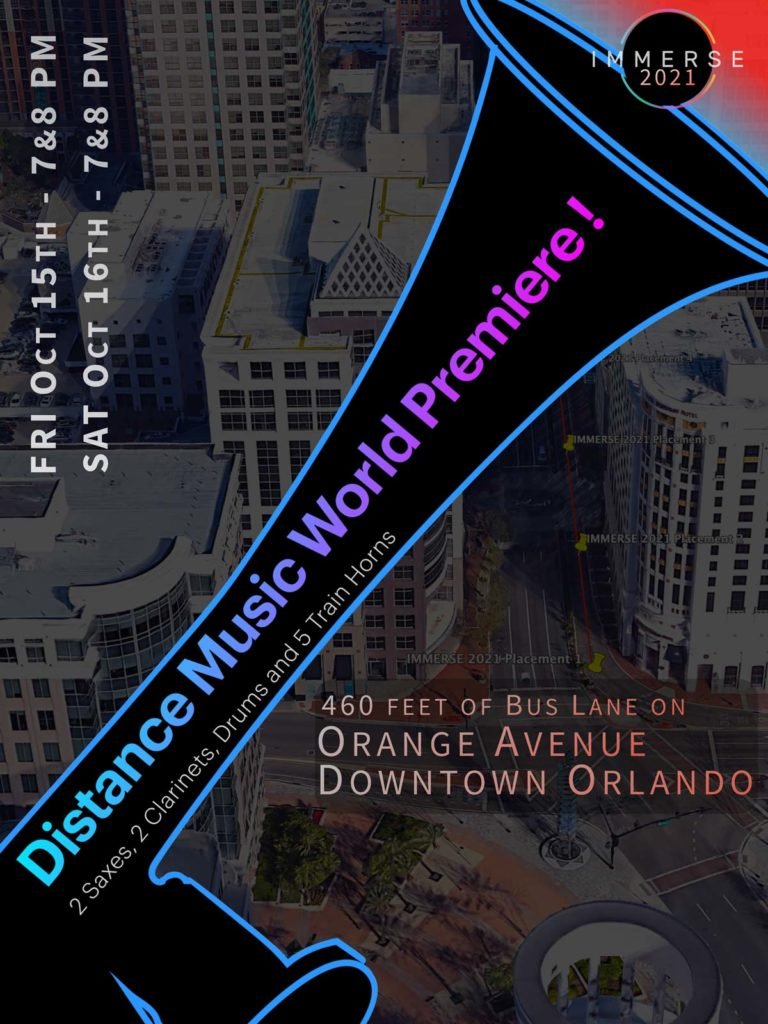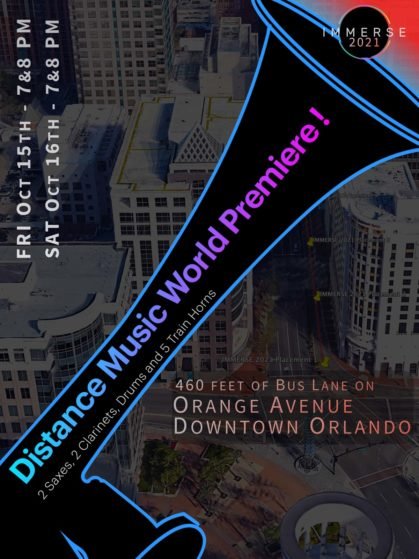 Wouldn't it be fun to walk down 460 feet of Orlando's Orange Avenue, listening to a beautiful quartal-and-thirds chord echoing through the air between its buildings – that changes its rhythm and note order when you move? To be surrounded by it, in infinite variations that are formed by where you choose to stand? To be a part of an audience that looks more like kids in an easter-egg hunt than an experimental music concert, exploring how the rhythms are fixed to location – and sharing favorite positions? And as you walk, coming across gems of musicianship and improvisation along the way without mics or loudspeakers?
Maybe you've noticed how thunder comes 5 seconds per mile after its lightning strike or that you have to wait for the boom of a high 4th of July firework? Distance Music exploits this natural phenomenon to construct a new music experience.
Usually, a composer organizes an experience that runs along a planned route with a beginning and end.  Distance Music is more like a modern computer game, where the composer, like a game designer, creates an environment that gives agency to the player, or in this case, the listener, to make their own storyline. Audiences at IMMERSE will do so by choosing where to walk in the 460-foot concert area on Orange. The music they hear will be the product of their exploration, so there is no stage.  
Distance Music has two distinct layers. "Shifting Ground" is created by machines and heard across the concert site. "Musician Bubbles" feature live musicians synchronizing with the shifting ground at specially chosen spots.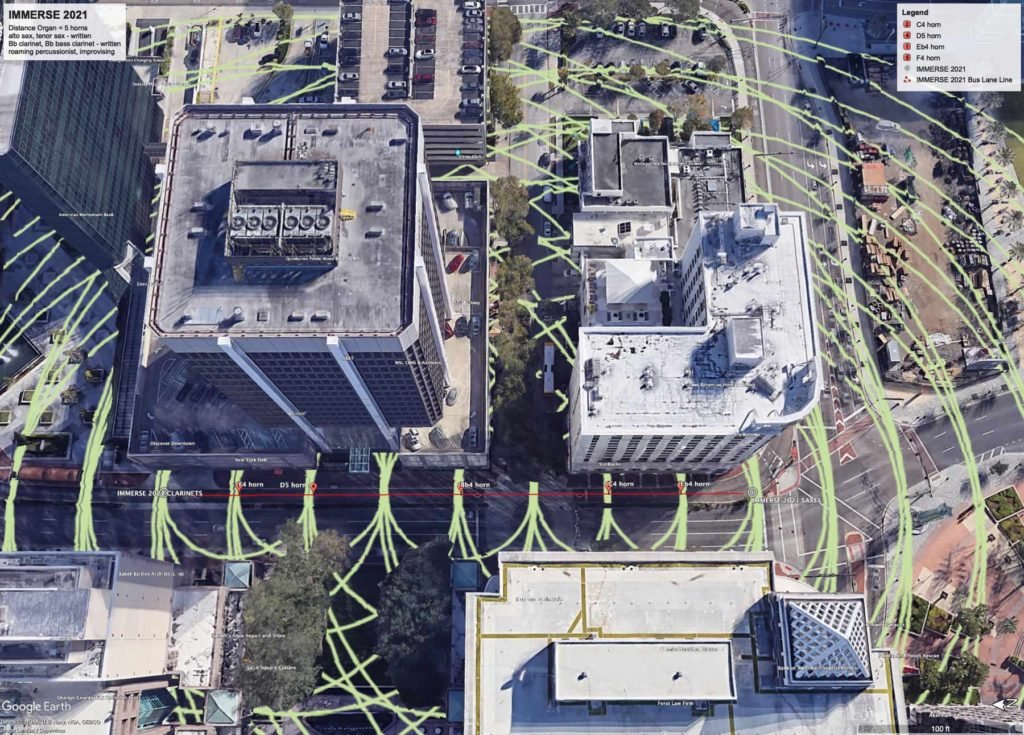 The shifting ground layer is the most prominent. It is a repeating group, or "constellation," of notes C, Eb, F, Bb, and D created by a group of remote-controlled, acoustic machines called "Sounders." They each play a loud, short pitch exactly together, which, moving at the speed of sound, reaches each listener in turn from closest to farthest. The constellation heard by each audience member is produced by the length of time each note takes to get to them. Musical changes in the shifting ground occur only in the listeners' perception by walking. A couple standing together hear an identical shifting ground. The further apart any two listeners are, the less similar their constellation will be. Those who stand still will only get the same constellation pattern, repeated. (not recommended!)
The green lines in the above illustration represent seven contiguous sound wave positions from each sound source for every 101 milliseconds. 
The sounders for IMMERSE are Nathan AirChime train horns, powered by compressed air stored in heavy, high-pressure cylinders. A battery-powered telemetry system sends music instructions to each sounder via digital radio.  
This video is a lab document determining the shortest duration available from all 11 horn pitches. It serves here to illustrate the parts of the system. On the left is a Mac laptop running LogicProX, where the   music instructions for the sounders originates in MIDI. Those instructions are converted to data that the horns understand with an application created with Cycling '74 Max, and sent via radio waves to the horn apparatuses. The three lights are on top of the custom designed remote receiver from Pribusin, which opens and closes a Parker Pneumatics N Poppet solenoid valve, allows the compressed air move through the train horn, creating its loud, staccato note.
What makes this "Music" – instead of just a cool sonic experiment? The answer lies in where the sounders are placed and the inclusion of live musicians. Something special happens by spacing the train horns in a line an equal distance apart: further away locations at the same distance interval (115 ft.) on that line will have constellations with a rhythmic beat. I have placed Alexander Rivera-Charles-clarinet and Jessica Hall Speak – bass clarinet on the nearest beat spot on the north side. Tim Rosenberg – alto saxophone and Brian Smithers – tenor saxophone, will perform from the opposite spot to the south. These "musician bubbles" artists will be reading music created especially for the constellation heard at their respective positions.
IMMERSE 2021
October 15th, 2021
7 pm and 8 pm performances
October 16th, 2021
7 pm and 8 pm performances
Musicians
Jessica Hall Speak, Bass Clarinet
Alex Rivera-Charles, clarinet
Tim Rosenberg, Alto Sax
Brian Smithers, Tenor Sax
Thad Anderson, percussion